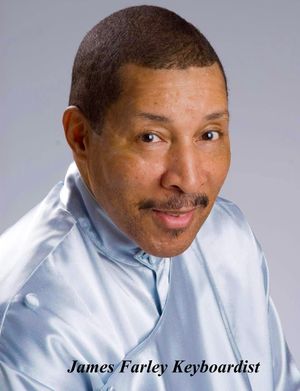 Meet James Farley
James is a product of the Settlement Music School in Philadelphia. Piano was his first love but he has played a few instruments to include the violin, concert percussion and the Hammond B3 organ. While in high school Jim performed and recorded with folk legend "Pete Seeger". For years he played for churches all over the Hudson Valley in New York and trained choirs for radio broadcast.
Jim formed the band called "Jazmyn" with legendary vocalist Debi Gilchrest and together they attained national and international acclaim sharing stages with music legends such as Nancy Wilson, Joe Williams, Gerald Albright, Stanley Turrentine, Peabo Bryson, Glenn Jones, Ruth Brown, Oscar Brown, Jr., Little Jimmy Scotts, Marion Meadows and Norman Connors.
Jim has toured the entire Caribbean, the Philippines, Japan, Hong Kong, Beijing, Israel, Amsterdam, Sweden, Bermuda, Kazakstan, Azerbaijan and Mexico. Jazmyn spent 8 years performing in Vegas while performing for every major Vegas hotel and stage.
A one time music director for the Apollo Theatre in Harlem, New York, Jim was also a summer series musician with Lincoln Center in Manhattan, NY.
Smooth jazz, R&B, ballads and show tunes makeup Jim's broad repertoire and occasionally he lends his voice to the mix and you wonder how one man does all this so well. You'll believe there is a bass man playing and a string section to boot. And still there is the piano or guitar that carries the melody and rhythm. Seeing may still not lead you to believe but your ears will convince you that this is one talented guy….